Cursive Handwriting Workbook: Awesome Cursive Writing Practice Book for Kids and Teens - Capital & Lowercase Letters, Words and Sentences with Fun J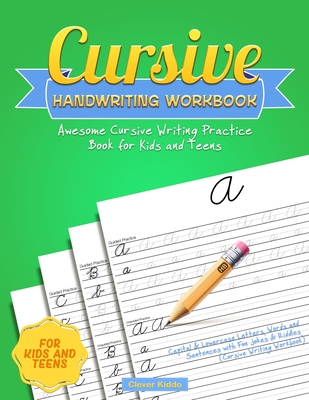 Cursive Handwriting Workbook: Awesome Cursive Writing Practice Book for Kids and Teens - Capital & Lowercase Letters, Words and Sentences with Fun J
Enough with the hard time learning proper cursive handwriting. Our Cursive Handwriting Workbook is here to teach the the ins and outs of cursive writing and do that in a fun and enjoyable way

Inside this workbook, you will find:
Cursive letter tracing practice - the whole alphabet, from A-Z, capital and lower case letters
Word tracing practice
Sentence tracing practice - plenty of funny jokes and clever riddles
...and lots of unguided practice to apply what you have learned

This book is great for kids, teens and kids at heart as well. Anyone who wants to improve their cursive writing skills
Grab your copy now and let your child learn cursive writing in an enjoyable way
Citeste mai mult
PRP: 89.61 Lei

Acesta este Pretul Recomandat de Producator. Pretul de vanzare al produsului este afisat mai jos.
80.65Lei
Descrierea produsului
Enough with the hard time learning proper cursive handwriting. Our Cursive Handwriting Workbook is here to teach the the ins and outs of cursive writing and do that in a fun and enjoyable way

Inside this workbook, you will find:
Cursive letter tracing practice - the whole alphabet, from A-Z, capital and lower case letters
Word tracing practice
Sentence tracing practice - plenty of funny jokes and clever riddles
...and lots of unguided practice to apply what you have learned

This book is great for kids, teens and kids at heart as well. Anyone who wants to improve their cursive writing skills
Grab your copy now and let your child learn cursive writing in an enjoyable way
Citeste mai mult