Meatless: More Than 200 of the Very Best Vegetarian Recipes: A Cookbook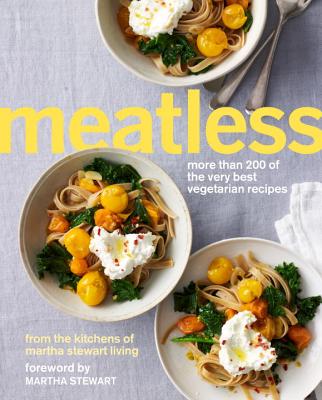 Meatless: More Than 200 of the Very Best Vegetarian Recipes: A Cookbook
For the fast-growing number of Americans who are turning to a vegetarian diet, and the four million fans of "Whole Living," here is a comprehensive collection of easy, meat-free mains from the team who developed "Power Foods" (122,536 copies in print).
For anyone new to a vegetarian diet--flexitarians who adopt plans like Meatless Mondays--as well as committed vegetarians and fans of Power Foods, here is a comprehensive collection of easy, meat-free mains for everyday. As inspiring as it is practical, Meatless features 200 recipes--each accompanied by a gorgeous photograph--for full-fledged vegetarians and meat-eaters alike. You'll find recipes for classics and new favorites, plus plenty of low-fat, vegan, and gluten-free options, too. More than just a cookbook, Meatless is also a roadmap to embracing a vegetable-based lifestyle. Here are dozens of versatile recipes that can be easily adapted, such as pizza with a variety of toppings, salads made from different whole grains, and pestos with unexpected flavors and ingredients. You'll also find advice on stocking your pantry with vegetarian essentials (dried beans, pasta, herbs and spices), a collection of basic recipes and techniques (vegetable stock, tomato sauce, polenta), and make-ahead flavor-boosters (caramelized onions, roasted peppers, and quick pickles). Comprehensive and indispensable, Meatless makes it easy to prepare flavor-packed dinners for any day, any occasion. And no one will miss the meat. Selections include:

- Small Plates to Mix and Match: Smashed Chickpea, Basil, and Radish Dip with Pita Chips; Roasted Baby Potatoes with Romesco Sauce; Stuffed Marinated Hot Red Chili Peppers; Grilled Polenta with Balsamic Mushrooms
- Stovetop Suppers: Frittata with Asparagus, Goat Cheese, and Herbs; Spring Vegetable Ragout; Farro Risotto with Wild Mushrooms; Southwestern Hash
- Soups, Stews, and Chili: Tomato Soup with Poached Eggs; Bean Chili; White Cheddar Corn Chowder; Chickpea Curry with Roasted Cauliflower and Tomatoes
- Casseroles and other Baked Dishes: Ricotta and Spinach Stuffed Shells; Italian Baked Eggplant with Seitan; Black-Bean Tortilla Casserole; Apple, Leek, and Squash Gratin
- Substantial Salads Raw Kale Salad with Pomegranate and Toasted Walnuts; Avocado, Beet, and Orange Salad; Arugula, Potato, and Green Bean Salad with Creamy Walnut Dressing; Roasted-Tomato Tabbouleh

Citeste mai mult
PRP: 188.07 Lei

Acesta este Pretul Recomandat de Producator. Pretul de vanzare al produsului este afisat mai jos.
169.26Lei
Descrierea produsului
For the fast-growing number of Americans who are turning to a vegetarian diet, and the four million fans of "Whole Living," here is a comprehensive collection of easy, meat-free mains from the team who developed "Power Foods" (122,536 copies in print).
For anyone new to a vegetarian diet--flexitarians who adopt plans like Meatless Mondays--as well as committed vegetarians and fans of Power Foods, here is a comprehensive collection of easy, meat-free mains for everyday. As inspiring as it is practical, Meatless features 200 recipes--each accompanied by a gorgeous photograph--for full-fledged vegetarians and meat-eaters alike. You'll find recipes for classics and new favorites, plus plenty of low-fat, vegan, and gluten-free options, too. More than just a cookbook, Meatless is also a roadmap to embracing a vegetable-based lifestyle. Here are dozens of versatile recipes that can be easily adapted, such as pizza with a variety of toppings, salads made from different whole grains, and pestos with unexpected flavors and ingredients. You'll also find advice on stocking your pantry with vegetarian essentials (dried beans, pasta, herbs and spices), a collection of basic recipes and techniques (vegetable stock, tomato sauce, polenta), and make-ahead flavor-boosters (caramelized onions, roasted peppers, and quick pickles). Comprehensive and indispensable, Meatless makes it easy to prepare flavor-packed dinners for any day, any occasion. And no one will miss the meat. Selections include:

- Small Plates to Mix and Match: Smashed Chickpea, Basil, and Radish Dip with Pita Chips; Roasted Baby Potatoes with Romesco Sauce; Stuffed Marinated Hot Red Chili Peppers; Grilled Polenta with Balsamic Mushrooms
- Stovetop Suppers: Frittata with Asparagus, Goat Cheese, and Herbs; Spring Vegetable Ragout; Farro Risotto with Wild Mushrooms; Southwestern Hash
- Soups, Stews, and Chili: Tomato Soup with Poached Eggs; Bean Chili; White Cheddar Corn Chowder; Chickpea Curry with Roasted Cauliflower and Tomatoes
- Casseroles and other Baked Dishes: Ricotta and Spinach Stuffed Shells; Italian Baked Eggplant with Seitan; Black-Bean Tortilla Casserole; Apple, Leek, and Squash Gratin
- Substantial Salads Raw Kale Salad with Pomegranate and Toasted Walnuts; Avocado, Beet, and Orange Salad; Arugula, Potato, and Green Bean Salad with Creamy Walnut Dressing; Roasted-Tomato Tabbouleh

Citeste mai mult
Noi suntem despre carti, si la fel este si
Newsletter-ul nostru.
Aboneaza-te la vestile literare si primesti un cupon de -10% pentru viitoarea ta comanda!
*Reducerea aplicata prin cupon nu se cumuleaza, ci se aplica reducerea cea mai mare.