Real Estate Investing QuickStart Guide: The Simplified Beginner's Guide to Successfully Securing Financing, Closing Your First Deal, and Building Weal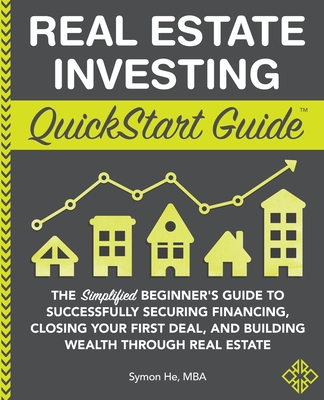 Real Estate Investing QuickStart Guide: The Simplified Beginner's Guide to Successfully Securing Financing, Closing Your First Deal, and Building Weal

THE ULTIMATE BEGINNER'S GUIDE TO REAL ESTATE INVESTING IN THE POST-PANDEMIC ECONOMY
INCLUDES 8 HOURS OF FREE ONLINE REAL ESTATE COURSES FROM THE AUTHOR + MULTIPLE FREE REAL ESTATE INVESTING TOOLS
Do you want to know to create passive income, build real long-term wealth, and achieve financial freedom all through real estate investing?
If so, look no further than Real Estate Investing QuickStart Guide, the most comprehensive, practical, beginner friendly Real Estate Investing book ever written.
Real estate investing, often considered the number one creator of lasting wealth in today's economy can be started with significantly less money, less time, and less expertise than most people imagine.
In Real Estate Investing QuickStart Guide, author, best-selling course instructor, licensed real estate broker, and consultant Symon He lays out the simplest, most practical and most straightforward path for new investors eager to ink their first deals and start their journey to building a real estate empire.
No matter how much money you think you need, how much time you think it takes, or if you think all the "good deals" have already been snapped up, Real Estate Investing QuickStart Guide will show you that anyone can get started once they are armed with the knowledge contained in this book.
Real Estate Investing QuickStart Guide Is Perfect For: Complete newcomers to the world of real estate investing or anyone looking to create real, lasting wealth through real estate investingExisting real estate investors who are looking to expand their portfolios and learn new way to create wealth through real estateAnyone who has struggled to find success in the past with complicated books or expensive real estate programs and seminars
Real Estate Investing QuickStart Guide Covers: How to generate sustainable passive income through rental property investingHow to produce lasting profits through commercial real estate investingHow to complete profile real estate wholesale deals with little to no moneyHow to successfully 'flip' properties for quick & predictable profitsHow to grow your income producing portfolio quickly with multifamily propertiesHow to create 100% hands-off income streams from indirect real estate investments like REITs
Real Estate Investing QuickStart Guide Will Teach You: The Secrets of Profitable Deal Making-Where to Find Deals, How to Structure Your Deals, and How to Avoid LossesThe Inner Workings of the Residential, Commercial,
Citeste mai mult
PRP: 193.67 Lei

Acesta este Pretul Recomandat de Producator. Pretul de vanzare al produsului este afisat mai jos.
174.30Lei
Descrierea produsului

THE ULTIMATE BEGINNER'S GUIDE TO REAL ESTATE INVESTING IN THE POST-PANDEMIC ECONOMY
INCLUDES 8 HOURS OF FREE ONLINE REAL ESTATE COURSES FROM THE AUTHOR + MULTIPLE FREE REAL ESTATE INVESTING TOOLS
Do you want to know to create passive income, build real long-term wealth, and achieve financial freedom all through real estate investing?
If so, look no further than Real Estate Investing QuickStart Guide, the most comprehensive, practical, beginner friendly Real Estate Investing book ever written.
Real estate investing, often considered the number one creator of lasting wealth in today's economy can be started with significantly less money, less time, and less expertise than most people imagine.
In Real Estate Investing QuickStart Guide, author, best-selling course instructor, licensed real estate broker, and consultant Symon He lays out the simplest, most practical and most straightforward path for new investors eager to ink their first deals and start their journey to building a real estate empire.
No matter how much money you think you need, how much time you think it takes, or if you think all the "good deals" have already been snapped up, Real Estate Investing QuickStart Guide will show you that anyone can get started once they are armed with the knowledge contained in this book.
Real Estate Investing QuickStart Guide Is Perfect For: Complete newcomers to the world of real estate investing or anyone looking to create real, lasting wealth through real estate investingExisting real estate investors who are looking to expand their portfolios and learn new way to create wealth through real estateAnyone who has struggled to find success in the past with complicated books or expensive real estate programs and seminars
Real Estate Investing QuickStart Guide Covers: How to generate sustainable passive income through rental property investingHow to produce lasting profits through commercial real estate investingHow to complete profile real estate wholesale deals with little to no moneyHow to successfully 'flip' properties for quick & predictable profitsHow to grow your income producing portfolio quickly with multifamily propertiesHow to create 100% hands-off income streams from indirect real estate investments like REITs
Real Estate Investing QuickStart Guide Will Teach You: The Secrets of Profitable Deal Making-Where to Find Deals, How to Structure Your Deals, and How to Avoid LossesThe Inner Workings of the Residential, Commercial,
Citeste mai mult